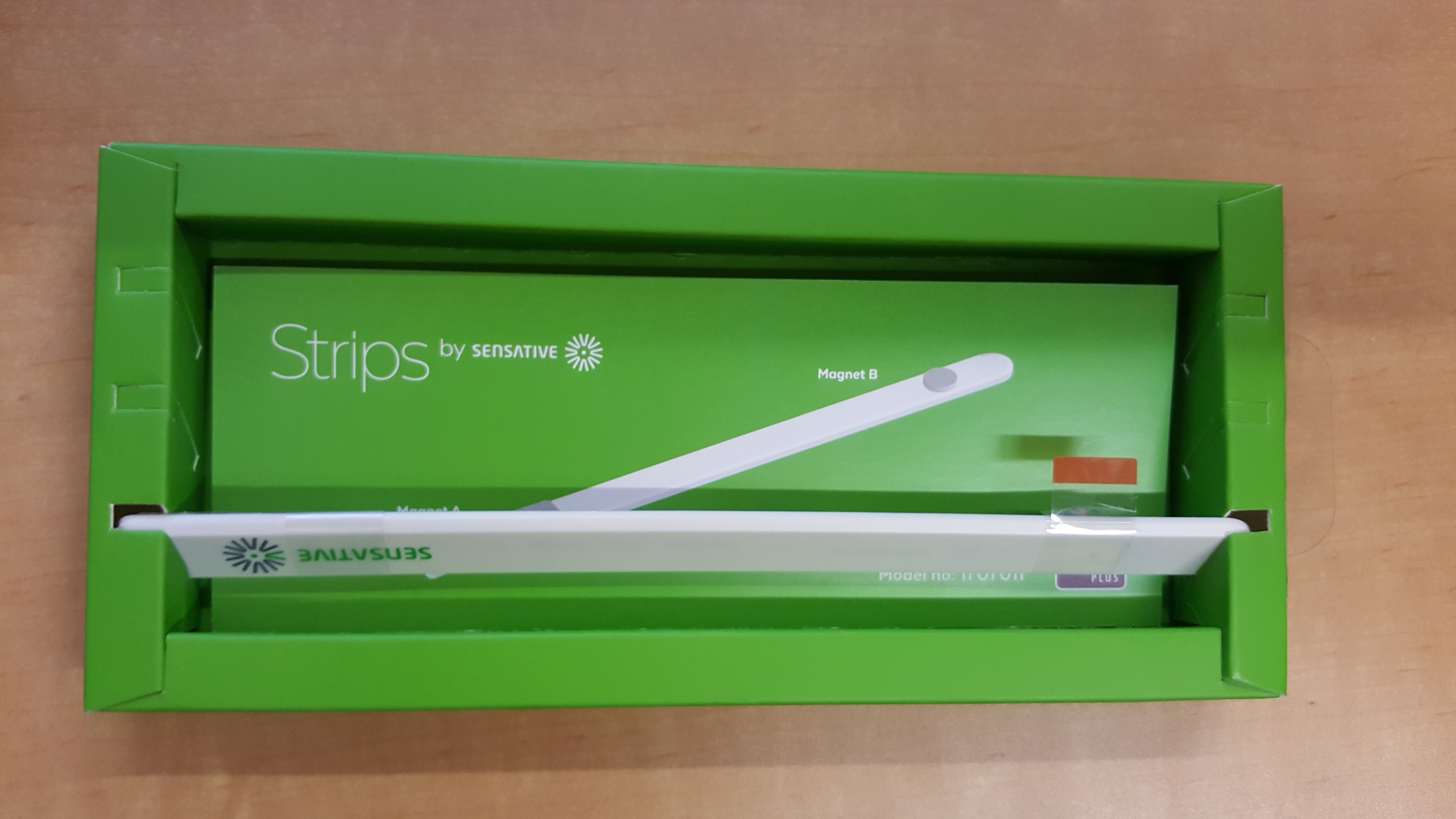 Another crowd funded device, Strips by Sensative is an ultra thin Z-Wave door / window sensor that is meant for those that are sick of ugly, blocky sensors that typically sit on your door or window frame. I finally got my hands on one and have spent a few hours testing the device to see how it compares to the multitude of sensors that exist in the home automation market.
First off, I am one of those people that hate the look of door / window sensors in their traditional sense. I have had HA systems and alarm systems over the last several years, and believe that typical sensors are an eye sore. I have fitted my doors with Aeon Recessed sensors for this reason, but drilling holes in your door and door frame may not be for everyone. Can the Sensative Strips fill that gap?
Look & Feel
The sensor came to my door a few weeks ago in a DHL express envelope. It appeared that the packaging had taken some abuse, and I quickly noticed that it had even been opened. Low and behold "Rondum" from DHL had opened the package for security purposes. Even the package of the Strip had been opened. Regardless of the slight feeling of invasion, I opened the package to behold the tongue depressor like Z-Wave sensor and its attached batteries. The device measures a little long at about 7.6 inches and a little thicker than a quarter. As mentioned, two magnets come with the device. One is to activate the sensor and for pairing. The other is for some advance configuration and resetting. It is a very slick , but lengthy device.
Battery
Sensative states that you could possibly get 10 years out of the battery on this device. That is good, because the battery is non-replaceable. Of course, it will take the passage of time for battery ratings for this sensor to be revealed, but a short battery life could mean a very expensive disposable good. As someone that has seen door / window sensors last for multiple years, I am very optimistic that this device will at least give a few years of functionality.
SmartThings Compatibility
After using the instructions listed below, the Strip paired with SmartThings as a "Thing" (which was a little bit of a surprise to me). With the command classes that this thing supports, I expected it to match up with the Z-Wave Door Sensor device handler in SmartThings with the ability to immediately use it. Well, it didn't, and I had to go into the SmartThings IDE and assign the Z-Wave Door/Window Sensor device handler to it. I recommend doing this instead of using a community created handler (if there is one available), because this will allow the device to work locally and not be cloud dependent.
Mounting & Use
The Strip has a clear plastic backing that when removed, reveals an adhesive that you can use to stick it to your frame or door. You peel of the backing, stick it to the frame, and align / stick the magnet on the corresponding door or frame about where the Sensative logo would line up. If there is a big enough gap, the door will close and the device will send a report to your Z-Wave hub. After changing the handler the device worked 100%. I even checked the logs to make sure that I was getting battery and wake reports. There really isn't much to the functionality of this device. It is simple, it has a single job to do, and it seems to do it well.
Wake / Pairing / Reset
So the device does have a configuration parameter to turn off the LED (Parameter 2). This should save a little battery power. The default wake period of 24 hours should do the same. To manually wake the device you can place the rounded magnet on the rounded edge until the LED blinks and repeat the process three times in 10 seconds. Including and excluding from your Z-wave network requires the same process while the controller is in inclusion / exclusion mode. Finally, you can completely reset the sensor by repeating the wake process but on the third iteration, leave the magnet on the strip for 10 seconds. I thought for a moment that with a strong enough magnet, perhaps criminals could reset the sensor and gain access to your home. Sensative has the sensor send a Tamper report if waking and resetting are attempted which should protect you in that unlikely event.
Conclusion
This device seems solid. If its footprint doesn't interfere with the proper usage of your door or window and you don't want a big bulky sensor "double-sided-stickied" to your door / frame, then this is a great solution. The only problem right now is that it isn't for sale in the US. I have reached out to the company to see when they plan on a US launch and will post back when I hear from them.
Update
09-23-2016: Sensative Strips can now be purchased from thesmartesthouse.com!
07-13-2016: Sensative responded to my inquiry and stated that the Z-Wave strips should be available in the US "within a couple weeks".