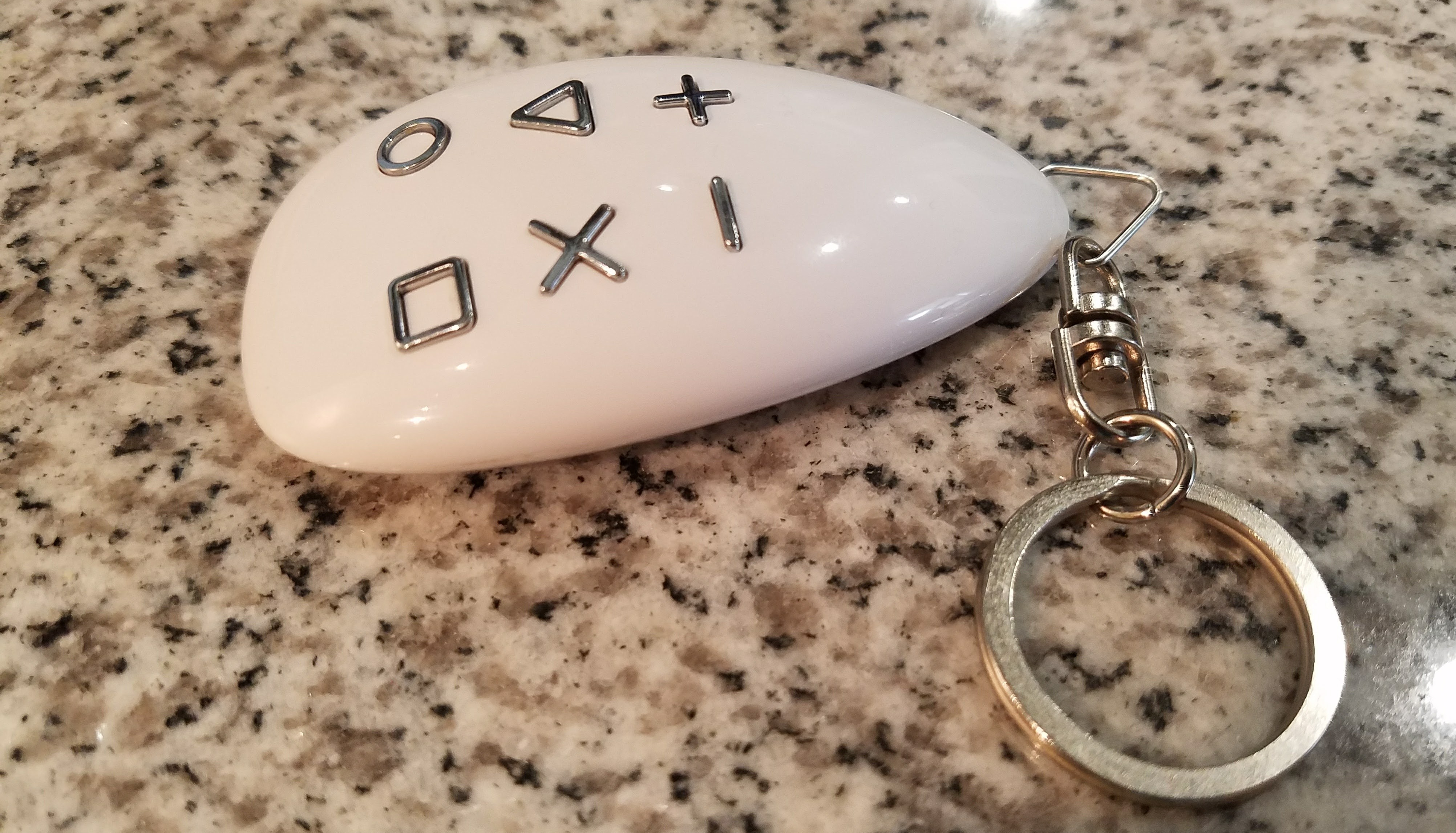 I really feel that Fibaro does a great job at making their hardware attractive, and their software feature rich and stable. The Fibaro KeyFob is an example of them sticking to that process with a sleek, small design, and plenty of capability.
Look & Feel
First off, this thing is extremely compact. Comparing it to other smart home button devices really puts that into perspective. It is less than half the size of the new Aeon Wallmotes and a little bit shorter than their famous Minimote. The glossy surface and tactile feel of the protruding buttons give it a very sturdy and high-quality look and feel. The buttons carry a PlayStation like resemblance, but their shape makes it possible to distinguish them, even in the dark.
The battery compartment (which must be opened to connect the battery and include the remote into your z-wave network) was a little difficult to open. I damaged the plastic a little bit using various tools until I discovered a little trick. The circular part of the key chain actually fits perfectly into the battery cap slot. Using it and a quick 35 degree counter clockwise turn gets you into business. This is conveniently printed in the manual which is another reminder that I should start there before jumping into testing a new device.
Installation
Depending on your Z-Wave gateway, installation of this device may be a little bit different. Inclusion is as simple as putting your gateway into the respective mode and clicking any of the buttons three times. As it is a new device, SmartThings does not have out of the box support for it. While I usually write handlers for devices that I get that don't immediately integrate into SmartThings, I was pleased to find out that the community had already produced an excellent solution. There were some slight differences with how the US version paired up to the hub compared to the UK version, but after a quick few changes to the handler, I was able to press the KeyFob's buttons and see the results in SmartThings.
Usage
The KeyFob proved to be extremely reliable and responsive. I didn't seem to get any missed presses nor did any of my single presses result in any double/tripple click interpretations. Speaking of, this device has an impressive 30 possible button actions out of its six buttons. These include single, double, & triple press, press & hold, and six customizable sequences. For example, you could have square, X, minus be one action and circle, triangle, plus be another. Also, any of these types of button presses can be disabled to fit your particular needs.
Features
As with most Fibaro devices, this thing is packed with features. Thankfully, the author of the device handler did a great job of exposing them to SmartThings. For example, the device can be configured to go into a "locked" state after a timeout or after holding down a chosen button. In the locked state, the KeyFob will not control anything. To unlock it, you specify what the unlock sequence is. Also, as mentioned above, you can disable any of the different button features for each individual button. For example, you can set the square button to only respond to single clicks and the triangle button to only respond to double and triple clicks.
With these options, as well as the customizable sequences, this is one of the most feature packed button devices on the market.
Conclusion
There really isn't anything bad to say about this device. Perhaps the only negative is that it is one of the more expensive options when looking at devices in this category ($59). Despite its price though, it is solid, good looking, and is packed with features and functionality. A great addition to Fibaro's already attractive smart home lineup.
SmartThings Handler & Forum
https://github.com/ClassicGOD/SmartThingsPublic/blob/master/devicetypes/classicgod/fibaro-keyfob.src/fibaro-keyfob.groovy
https://community.smartthings.com/t/release-fibaro-keyfob-30-actions-z-wave-plus-compatible-battery-powered-compact-remote-control/83491