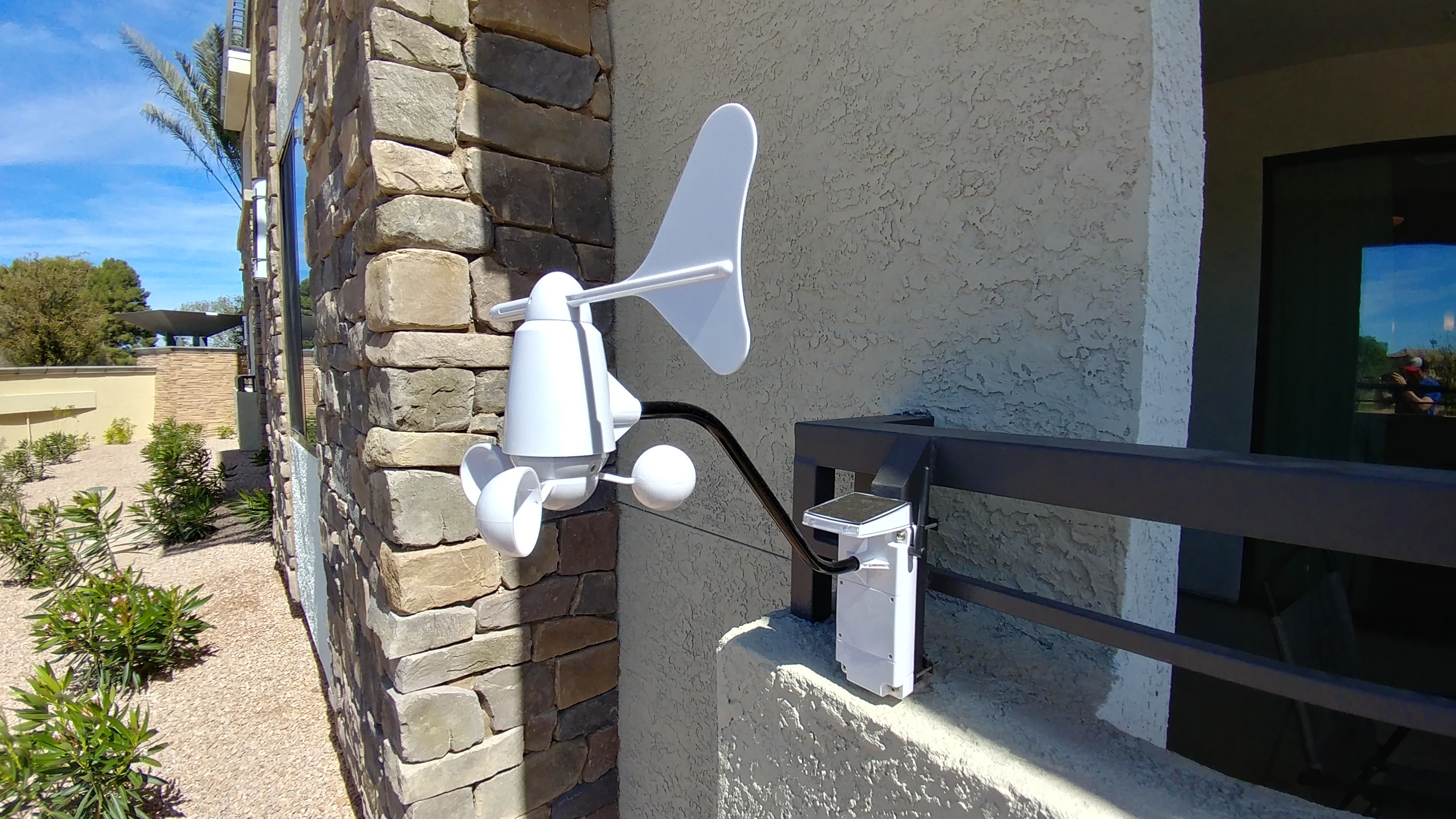 I've seen the Qubino Weather Station floating around the Z-Wave market for the last few months. It definitely stands out as a unique home automation product. With 10 measured values, it is marketed as having all the climate sensors you will ever need. I can in no way deny that claim, but does the device deliver what it promises?
Unboxing
The first thing I noticed after opening the box was that the wind sensor was a lot smaller than I thought it would be. This was good news as I was worried what this would look like on the outside of my home. It honestly isn't that noticeable and a decent trade off to having your own weather station where you live.
Upon opening up the different devices, it was nice to see that they all included batteries. Removing a small plastic separator was all that was needed to complete the battery circuit and power up the modules. Also included are mounting brackets for the wind sensor
Each component felt sturdy and reliable. Qubino seemed to do a good job in putting these things together. They mention on the weather station website that:
Our products are made to last, so we only select and use top-quality electronic components. Our modules are also the most tested Z-Wave microcontrollers on the market. The Slovenian Institute of Quality and Metrology (SIQ), an independent testing body, tests safety parameters including temperature rise, construction, insulation resistance, power consumption and overload in accordance with the EN 60669-2-1 standard.
The kit's contents are quite impressive. Check out the gallery below to see all that is included in the box.
Installation
Being unlike any other Z-Wave device I have used, it was a little intimidating to install the Qubino Weather Station. My hesitation was a unfounded, as it turned out to be pretty simple. The kit comes with all the hardware needed to mount the wind sensor to a round post. My installation location had more of a square post which made the screws not quite long enough. Also, I wanted to firmly secure the rain sensor to the ground so a short trip to the hardware store was needed. I bought four M4-.7 x 80mm screws and a pack of fabric & sod staples that are typically used to hold down cloth weed barrier. All of the sensor components of the kit included batteries, so I just had to remove small plastic barriers in the battery terminals to get everything up and running before securing them to their desired location.
The wind sensor required that I attach the bottom part of the spinning mechanism and secure it with a screw that was floating in place. Then, with the longer screws I purchased, I secured the device to the square post on my deck. It was actually very simple and took only a few minutes.
I then chose a nice location for the rain sensor and dug out the gravel in a small circle where I was going to install it. Opening the rain sensor allows you to see a small level that should be used to make sure the sensor is flat to the ground and that there aren't any slopes that could throw off the measurement. Once it was placed where I desired and the level checked out, I secured it with the fabric staples and replaced the gravel around it.
Lastly, I drilled a hole in my outside wall to install a single screw that would be used to mount the thermo-hygrometer. Again, a very simple step that gave a really professional look. The kit comes with two thermo-hygrometers. I mounted one outside and one in my house. The Qubino manual mentions that these devices should be placed somewhere that has free air flow, and is not prone to direct sunlight or extreme weather conditions.
After all sensors were in their ideal locations, the only thing left was to include the small USB Z-Wave dongle into my Z-Wave network. Like other Qubino products, I put my Z-Wave gateway into inclusion mode, powered the Qubino dongle, and after a few seconds the auto-inclusion process took effect and the weather station was part of my network. If the auto-inclusion does not work for you, you can hold the service (S) button for 1.5 to 4 seconds to force it into inclusion mode.
Usage
I included the weather station into a SmartThings Z-Wave network and have been using it for a few weeks. Qubino supplied their own device handler which made thing simple during the device discovery and installation process. After inclusion, the device immediately started reporting various weather related metrics. Included in those metrics are temperature and humidity for the thermo-hygrometers, temperature, wind direction, velocity, chill, and gust for the wind sensor, and rain reporting for the rain sensor.
SmartThings has native support for some of these reports, but many of them will require the use of something like CoRE. CoRE allows you to take action on any SmartThings attribute, including custom ones. This means you can create a rule to act when the weather station reports humidity for Channel 1 of the thermo-hygrometers, when the rain rate changes, or based on wind direction etc. To access these custom attributes in CoRE, Expert Mode must be enabled in the apps settings. With CoRE I was able to easily setup notifications to be triggered when it started raining, and to be alerted when wind reaches a certain speed. The latter comes in handy when you need to know a good time to bring your garbage cans into the garage (lest they be blown down the street to your neighbors property).
The device handler also lets you associate other Z-Wave devices with the weather station and configure the thresholds that need to be met in order for these other devices to receive a report.
Conclusion
I am quite impressed with this one-of-a-kind Z-Wave device. Don't let the apparent size or installation intimidate you. It is smaller than one would expect and installation can be accomplished in under 30 minutes.
There is something novel about having a personal weather station. Yes, one can rely on local weather reports, but it is really neat to be able to know the exact temperature, moisture, wind direction, wind speed, and wind velocity of the location of your home.
Where to Buy
If you are interested in picking up this device, it can be purchased from thesmartesthouse.com.